Automatic bag slitting machine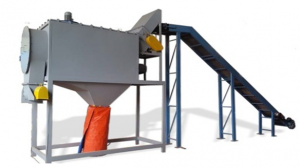 pneuCONVEYOR – Automatic Bag Slitting Machine 
Product  Description:  Automatic Bag Slitting & emptying station
pneuCONVEYOR — AUTOMATIC BAG SLITTING MACHINE (Model: PC – Multicut) is ideal for food, pharmaceutical, chemical, and related applications. pneuCONVEYOR—Bag slitting machine ends all your dust and discharge problems once and for all. The automatic bag slitter machine is suitable for the continuous and dust-free handling of all types of single or multi-layered bags. pneuCONVEYOR's fully automatic bag slitter can cut open and discharge up to 1000 bags per hour of powdered materials with soft lumps up to 100mm size from poly woven HDPE, hessian, and paper bags including bags of multiwall construction. Depending on the properties of the product and the condition of bags, capacities up to 25tons per hour can be obtained. The standard execution will handle approximately 10 tons per hour. The product is discharged within a contained dust-free environment with automatic empty bag compaction.
Bag Handled of size  — 25kg. —  390mm width   x   520mm  long  x   250mm height
360mm width   x   620mm  long  x    250mm height
Bag Handled of size  — 50 kg. — 800mm width   x   1200mm long  x   400 mm height
Efficient bag handling: The method of operation is simple but very effective. It ensures that the bags are emptied with minimal residue (0.01% – 0.5% for free-flowing products). By the appropriate design, "pneuCONVEYOR" can be operated by one man only and offers you an economic solution for your bag emptying problems. "pneuCONVEYOR" machine can be directly placed above a discharge point. If this is impossible or not desired, then "pneuCONVEYOR" can offer you a wide range of pneumatic and mechanical conveying systems to suit your specific needs.
Dust-free and safe working conditions:  All-access ways to the machine interior are fitted with safety switches. The machine allows simple cleaning in order to handle various products without contamination. A dust filter with an extraction fan can be mounted directly on top of the machine or pipe connections.
Method of operation
Bag centralization – Machine inlet:  The bags can be fed to the inlet of the machine by roller or belt conveyor. By either method, the bags are presented to a set of grip-faced powered rollers situated within the machine inlet. The powered rollers propel the bags forward between adjustable side guides to centralize the bags prior to the main Belt conveyor of the "pneuCONVEYOR" Bag Slitting machine.
Automatic location:  A bag passing through the centralizing guides is automatically collected by the twin adjustable paddle. The twin paddle guides the bag to move thoroughly on the belt conveyor where it gets cut by 2Nos. Knife cutter.
Bag slitting:   The Machine is provided with Multi cut  Blade, In a multi-cut, the bags are impaled onto a high-speed cutting knife. To impale the bags against the knife the machine literally "drops" the bag from a height of about 2 to 3 feet onto the blade. The moment the bag is slit, the material spills out.  The rotating knife is adjustable for cutting depth. Bags are conveyed across the rotating knife and are slit open lengthwise. A set of adjustable rollers exert pressure on the bags, to ensure that they are fully cut by the knife cutter.
Product discharge:  After multi-cut of a bag, the cut bag is tumbled in an inclined wire mesh drum in which the bag is repeatedly lifted and dropped as it moves forward to the exit. Material falls through the mesh to a collection hopper while the cut bag pieces find their way to a bag compactor & finally get discharge through the screw conveyor.
Ancillary Equipment:  The unit can be supplied with a wide range of ancillary equipment. Platforms support, and catwalks are designed to any client's specifications.
Dust filter unit:  Mechanical- or Reverse Jet dust filter in several executions place don top or next to the machine. An integrated dust filter is placed on top of the machine directly above the cutting- and vibration area. The pneuCONVEYOR can be fitted with 3 pipe connections for ducting to an externally placed dust filter. Choice of type of filter is determined by the product handled.
Operator/control panel:  Fitted with motor contactors and motor protectors. Control facilities include a door-mounted LCD display for all alarm and event messages and a PLC controller with Start/Stop sequence.
Belt conveyor in various executions:  Almost any desired type of belt conveyor can be fitted to the bag slitting unit for the automatic bag in the feed. Choice of belt conveyor type is subject to a local situation, type of bag, and desired working height. The belt width varies from 500 to 600mm with a maximum elevation angle of approx. 35°.
Rotating-brush cleaning-unit:  To prevent contamination of product when bags are used with dirt or dust on the outside, a rotating-brush cleaning-unit can be placed at the bag inlet of the "pneuCONVEYOR" machine.
Screw conveyor:  For mechanical conveying of the product after discharge.
Rotating sieve or built-in vibrating screen: For removal of contaminants and lumps from the product after discharge.
Crusher/lump breaker:  For breaking down lumps and agglomerates from the conveyed product after discharge.
Rotary blowing seal:  A blowing seal can be fitted directly under the product hopper to accommodate the pneumatic conveying of a product after discharge.
Bag compactor:  A screw compactor can be fitted at the discharge chute of the machine. Bags are compacted and discharged into plastic bags secured to the outlet of the compactor.
TECHNICAL SPECIFICATIONS:
| | |
| --- | --- |
| WEIGHT OF MACHINE —25KG. | 1140 KG |
| WEIGHT  OF  MACHINE  — 50KG. | 1540 KG. |
| BAG WIDTH WITH ADJUSTMENT RANGE  – 25KG | 390MM  W  X   520MM   L  X 250MM  HT. |
|                                                                            – 25KG | 360MM  W  X   620MM   L  X 250MM  HT. |
|                                                                            – 50KG | 800MM  W  X   1200MM L X  400MM HT. |
| ROTATING KNIFE |  HARD CHROME PLATED |
| | TUNGSTEN CARBIDE COATED (OPTIONAL) |
| CONVEYING CHAIN SPEED | 8 MTR./MIN  STANDARD |
| | 5 UP TO 18 MTR./MIN  OPTIONAL (DEPENDING ON PRODUCT) |
| MATERIAL EXECUTION | M S COATED  OR  STAINLESS STEEL |
| DRIVE ARRANGEMENT | 1.5 / 2 HP BAG TRANSPORT |
| |  1.0 / 1.5 HP ROTATING KNIFE |
| CHAIN TENSION | AUTOMATIC AND SELF-ADJUSTING |
| INSPECTION / MAINTENANCE | 4 ACCESS DOORS AS STANDARD SUPPLY |
| | 6 ACCESS DOORS / 2 TILTING CEILING DOORS—OPTIONALS |
| SAFETY FEATURES | SAFETY SWITCHES ON ALL ACCESS DOORS |
OVERALL DIMENSIONS :
25kg BAG — LENGTH — 4600 MM  X   WIDTH — 760 MM  X  HEIGHT— 2750 MM
50kg BAG — LENGTH — 5400 MM  X   WIDTH — 975 MM  X  HEIGHT— 2750 MM
pneuCONVEYOR – Multi cut is a versatile automatic slitter and earns its name owing to its ability to cut any type of bag be it paper or polythene. It is ideally suited to Indian conditions where the raw materials in bags are not properly sealed.
SALIENT FEATURES:
Loss-free, dust-free bag handling.
Increased efficiency and productivity
Pneumatically operated opening system.
Low-cost easy maintenance.
Low spares requirement.
Available in a wide range of construction materials including SS316.
The Belt system ensures the positive feeding of the sacks. The fact that spikes are not used on
the belts ensure positive discharge into the waste bag compactor.