pneuCONVEYOR's  – Tubular chain drag conveyor can simply handle transfer life of your bulk solids in various ways: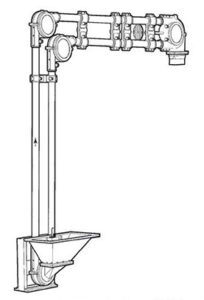 pneuCONVEYOR's – Tubular chain drag conveyor is a fully enclosed conveying system, consisting of a tubular casing through which the product is conveyed. Material is dragged along the tubing, pushed by specially made PTFE discs which have incredible compressive strength. This tubular drag conveyor systems operation is totally dust free, which eliminates the need to have a dust collection system. It can be used for handling a variety of bulk solids, no matter how abrasive, toxic, explosive or adhesive they are. Bulk material, right from micron sized fine particles to granules up to 40mm can easily be conveyed in pneuCONVEYOR's  Tubular chain drag conveyor. The low chain speed ensures gentle handling of the products. This preserves particle integrity with no further size reduction. It is, in fact, so gentle that one can achieve no breakage on nearly all types of products.  Another advantage is that the product is conveyed with no particle declassification – particle distribution consistency is maintained as it was before conveying.
Tubular chain drag conveyor can convey materials at any angle and in any plane around equipment and other obstacles in your plant. The unit can be equipped with a range of specialized components to handle tough material characteristics and process requirements. The conveyor can handle friable and other delicate materials without particle degradation.
The tubular chain drag conveyor's gentle handling makes it ideal for moving friable and other delicate materials without degradation and for transferring blended materials with minimal segregation. The tubular chain drag conveyors can handle highly abrasive or hot materials and safely transfer foods and other sanitary materials. The conveyors are most suitable for dusty and hazardous materials. The chain conveyor design also enables the conveyor to resist internal pressure build up caused by explosions and to contain propagating flame, making the conveyor suitable for handling potentially explosive materials.
SUITABILITY (INDUSTRIES) : Widely used in chemical, food, pharmaceutical, grain, mineral, plastics, agriculture, cement, mining, energy and other industries